Reptile Sports is a global leader in the design, marketing and distribution of lifestyle products for water sports, including windsurfing masts and accessories, stand up paddle boards and paddles, boards, wings and foils for the main aquatic disciplines, the Wing Foil. Over the course of more than twenty years, our brand's established reputation and distinctive image have steadily developed across an ever-widening range of products, lines, sales channels and international markets. We believe that our brand's breadth of product offerings and multi-channel distribution, innovation and signature style are unique among brands competing in the watersports industry.


with many apologies to kotler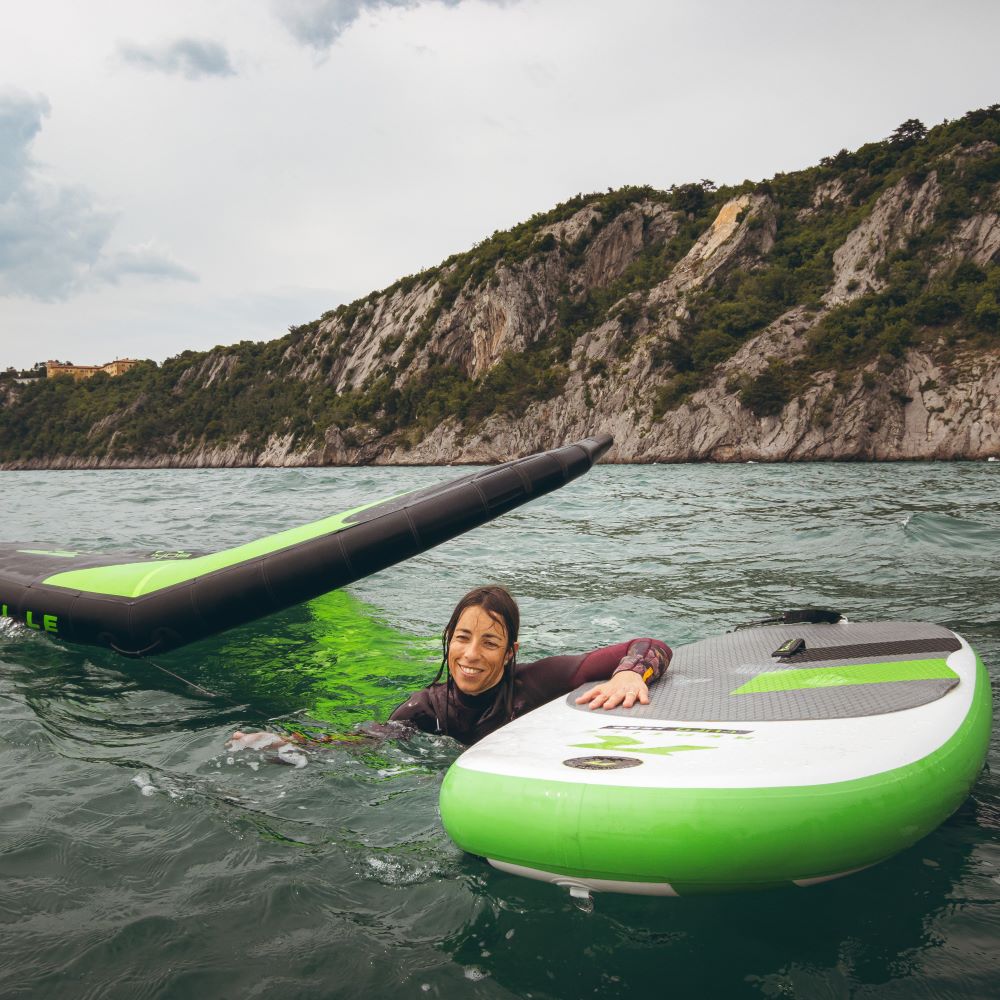 Product

Since 2003, our distinctive brand image has steadily developed across an ever-expanding range of products, price points and markets. Our products, divided into the three divisions Wing Foil, Stand Up Paddle and Windsurf, constitute one of the best-known families of water sports brands in the world. Faithful to a Made in Italy design, our mission is to continue to grow a lifestyle brand capable of embodying the dreams and aspirations of all lovers of sea sports and, thanks to the vision and direction of Andrea Cella, enthusiastic communicator and tireless, arousing curiosity and attracting even those who would never have thought of practicing a sport linked to the sea. We combine consumer information with our design, marketing and planning capabilities to offer an increasingly simple, functional, high-performance and accessible product.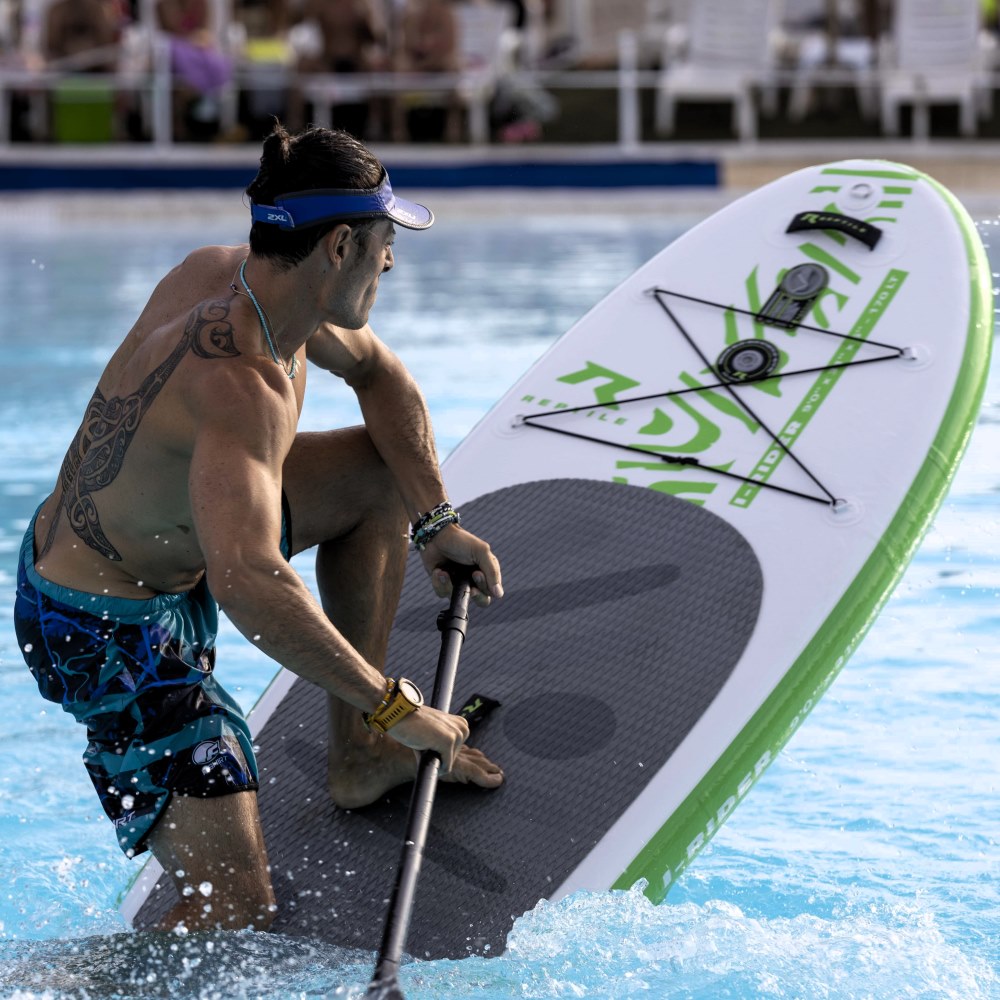 People

You are our drive and the center of our universe. We want to have direct contact with you, who are the users of our products. As great enthusiasts, pioneers and expert developers of water sports, we constantly communicate our experiences, our projects, the history of the products we constantly develop. We want to continually keep you updated on new materials, how to use our materials, and how we push our products to the limits of their potential. But at the same time we live to listen to you, your questions and feedback are essential to the continuous improvement of our products and our sport.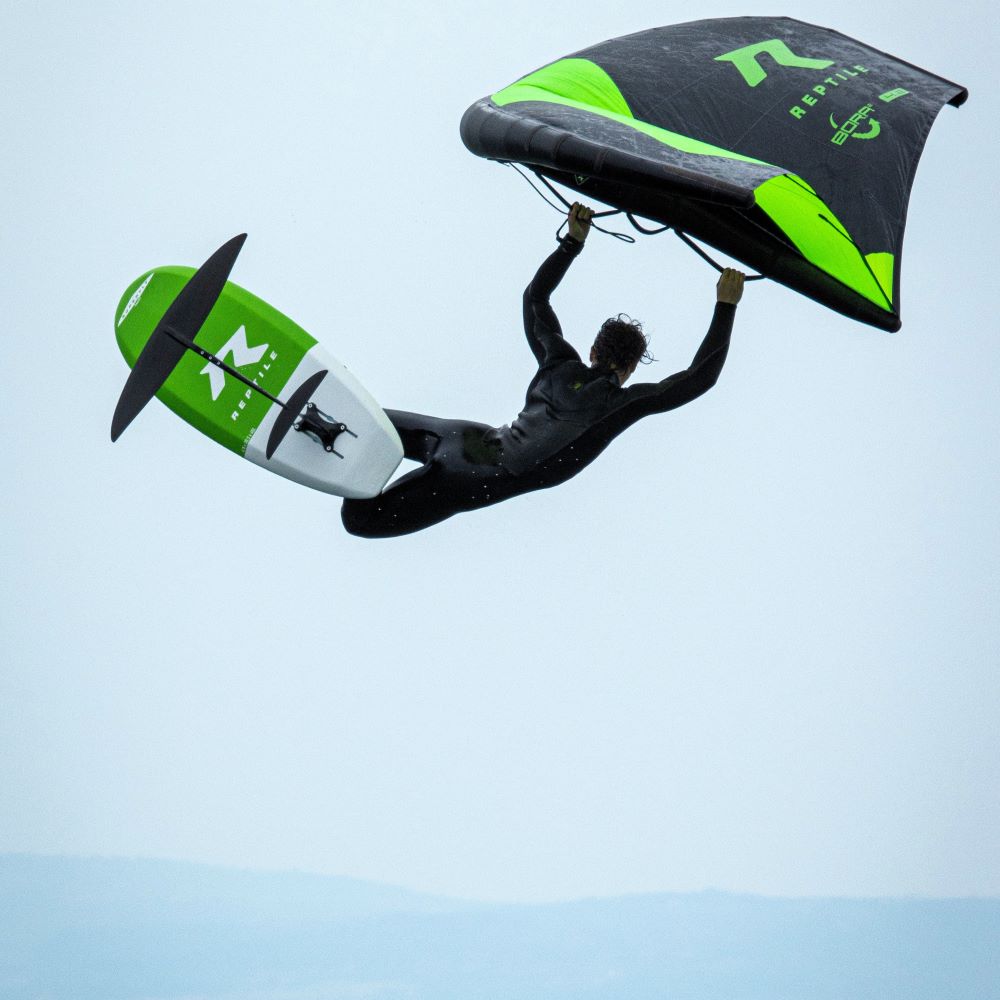 Performance

The right performance at the right level. We do not design cheap, low quality or low performance products. The Reptile program involves developing the right performance suited to every level of skill and experience.
There is absolutely no point in starting a new sport with high performance equipment. You would be wasting your money, your time and your enthusiasm, because you won't be ready for that kind of performance. We are the only ones who can recommend the correct material for your level.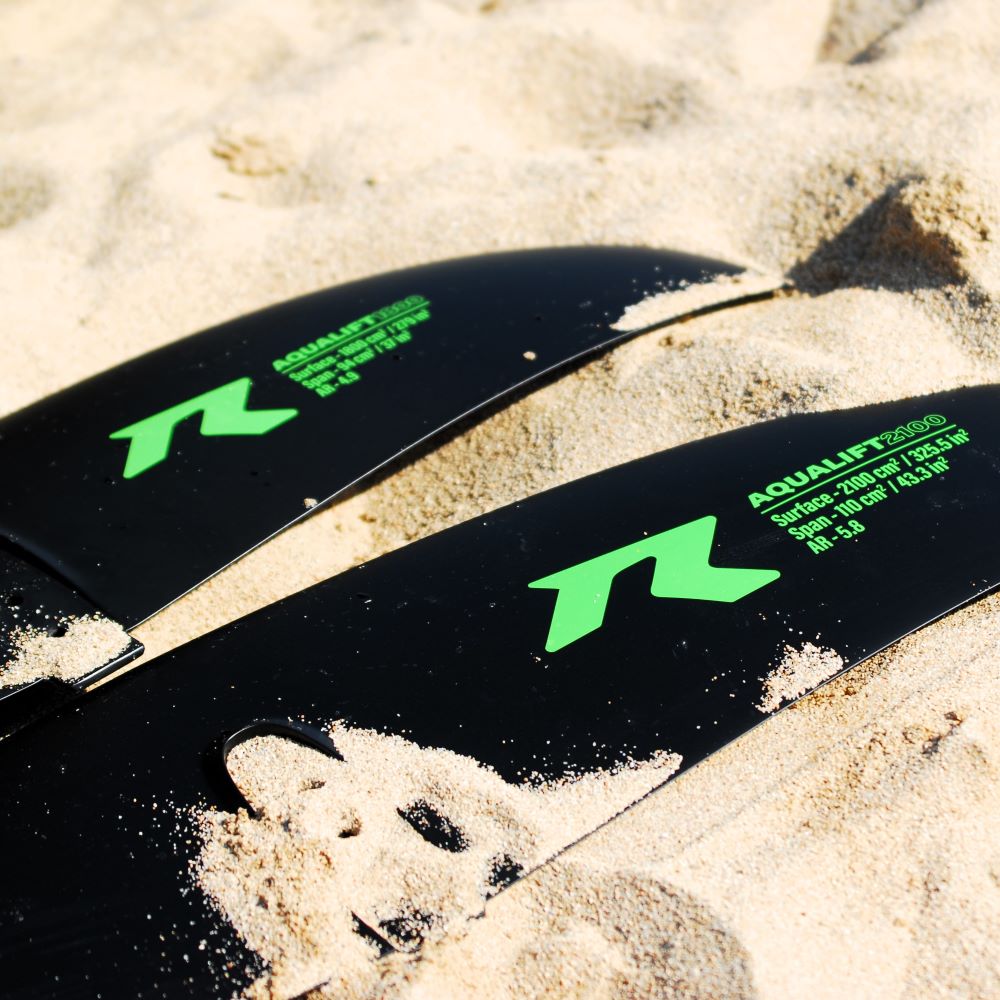 Price

The right price for the right product. Exclusivity can be the downfall of our sport. We are lucky enough to have a huge space available to practice our sport, a space that others envy us. We have 70% of the Earth's surface all to ourselves! We therefore want to make the practice of Wing Foiling, SUP and Windsurfing truly accessible to anyone, without descending to the level of "economic quality". Too high a price represents a brake on the development and spread of this sport. For this reason we have developed the entire entry level part that we distribute exclusively and directly to you, equipment on which you will build solid foundations in a very short time, having fun, which will raise your level. Only in this way is it possible to maintain a high quality standard at a selling price within everyone's reach.


who cares about our history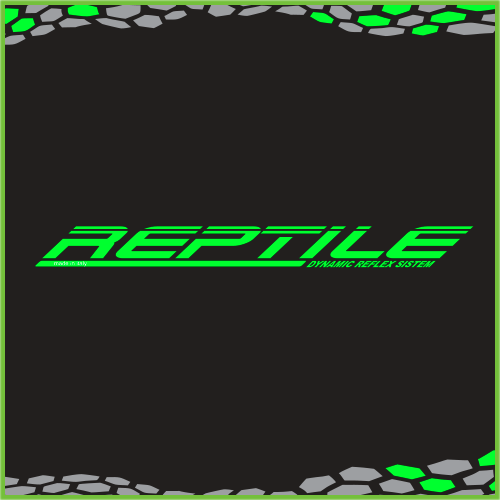 2003. REPTILE MASTS

The recipe for founding a brand of windsurfing masts in 2003: courage mixed with madness, a pinch of knowledge and luck, a graphic designer friend, a degree in Marketing and Languages, and lots and lots of passion and stubbornness.

Thus Reptile Masts was born, and this is the first logo ever.

Why was the name Reptile chosen?

We imagined that only a snake could always adapt perfectly to all windsurf sails on the market.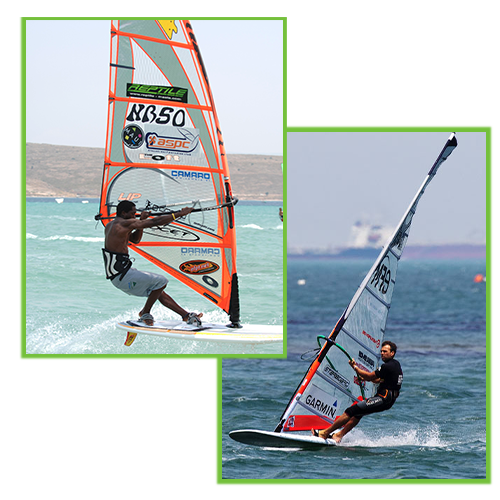 2004/2005. THE GREEN TEAM, FIRST INTERNATIONAL SUCCESSES

The company immediately began to sponsor and actively collaborate with many young athletes on the national and international scene, in all windsurfing disciplines: slalom, formula windsurfing, wave and freestyle. Many riders are starting to use Reptile masts, preferring their superior construction quality, lightness and performance. Among the first Marco Begalli, multiple champion in Formula Windsurfing and Slalom, and Ruben Petrisie, Caribbean freestyle phenomenon, top 10 of the European EFPT freestyle circuit and PWA athlete. Reptile Masts are starting to become known not only in Italy, but also in Europe, thanks to their successes and the excellent quality/price ratio, which has always been one of the main characteristics of the Brand. Reliability, accessibility and production excellence, these are the foundations on which the brand is based.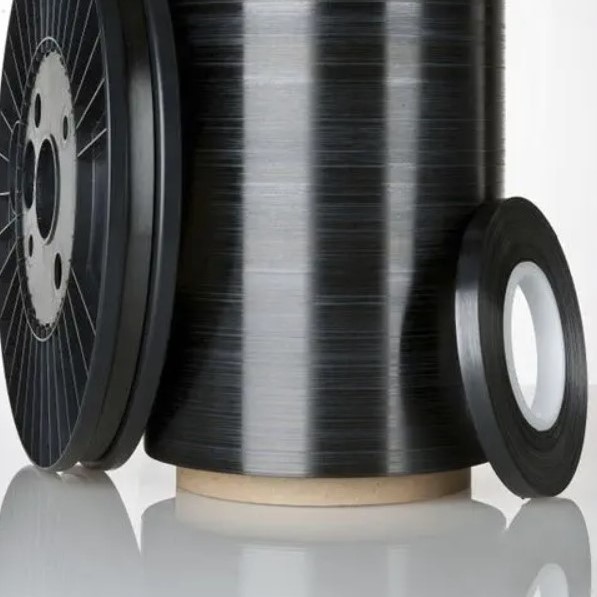 2008. ANOTHER TRAIN.

Driiiin! Hello? Would you like to help us grow a new windsurfing mast manufacturing company?

Ok, let's try, challenges fascinate me.

This was an important path to understand the fundamental company production dynamics, upon completion of university studies.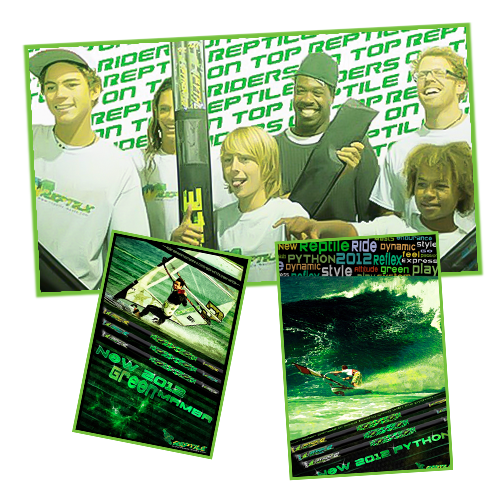 2009/2013. THE COMPANY GROWS.

Years pass and Reptile continues to improve its production process and the materials used to create its windsurfing masts, increasing the perception of the brand on a qualitative level. Ruben Petrisie becomes Team Manager and brings many young international windsurfing prospects into the Green Team, who later become champions in various disciplines.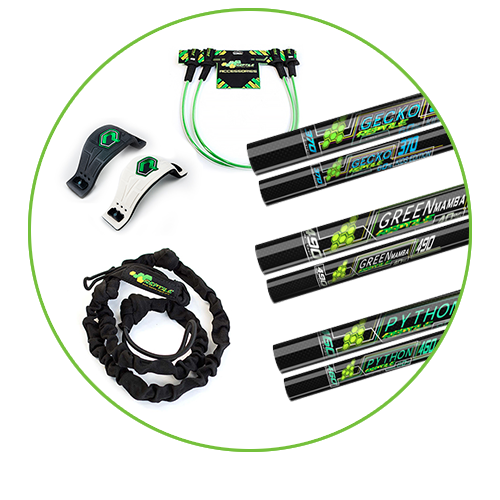 2013. 10 YEARS OF REPTILE

For the 10 year anniversary of Reptile Masts, the graphics of the masts are updated and, due to an ever-growing demand, many accessories are developed that complete the Reptile collection. Harness lines, recovery lines, extensions and mast feet.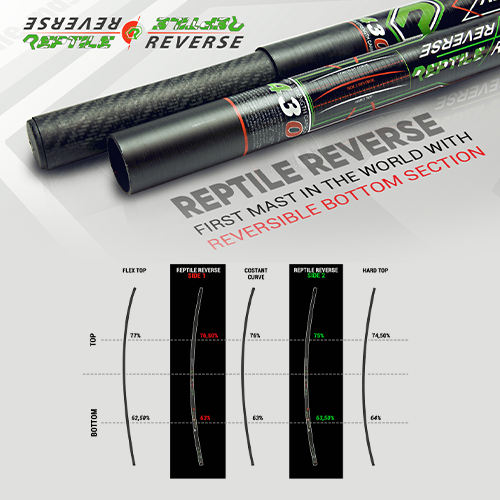 2015. REPTILE REVERSE. WOW IT'S CRAZY!

Constantly engaged in the search for innovation in the field of windsurfing masts, Andrea Cella invents the Reptile Reverse, the only windsurfing mast in the world to have TWO curves. It consists of a perfectly cylindrical base with a detailed carbon layering. It can be connected to the top using both ends, called "constant-FLEX" and "constant-HARD". Depending on the end used, one of the two desired curves is obtained" With this innovation Reptile rightfully enters the history of windsurfing.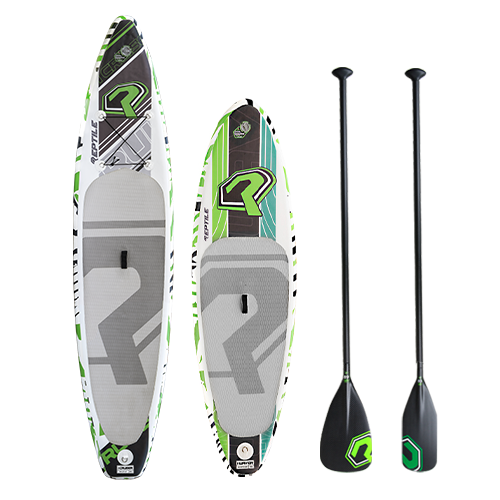 2016. REPTILE SUP

Always attentive to the evolution of the world of water sports, the company decided in 2016 to invest in a new market segment, Sup

All the experience gained by Reptile in the construction of the most performing windsurfing masts in the world is transferred to the SUP division, first with the construction of the carbon fiber paddles, and then with the design and development of the collection of inflatable boards, from the Wave to the Race.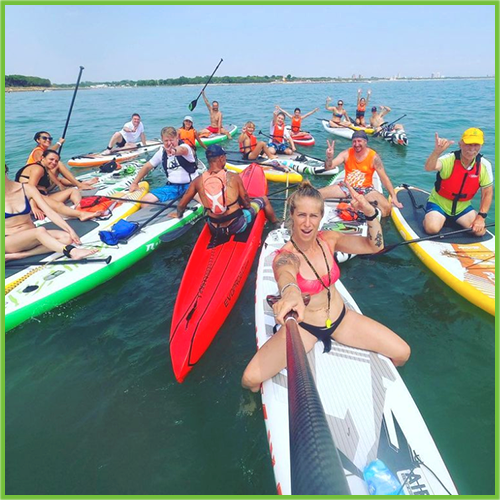 2017. SUCCESSES IN SUP AND ITALIAN SUP LEAGUE.

Reptile's national and international successes continue, both in windsurfing and SUP. All the products developed and distributed enjoy immediate success and the results are not long in coming. Reptile becomes sponsor and technical partner of the Italian Sup League, one of the most important Sup championships in Italy, winning countless podiums in all categories. The company carries out important developments on inflatable race boards and carbon paddles.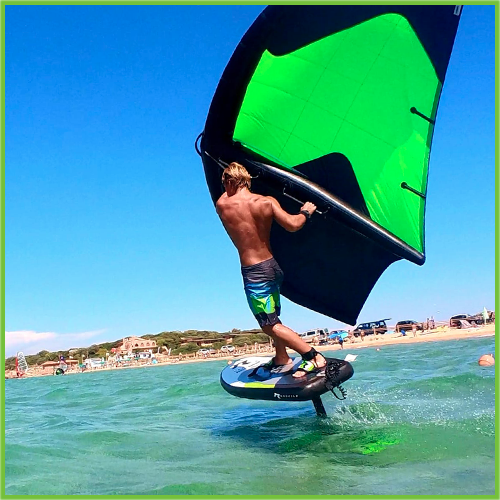 2019. WING FOIl, THE FUTURE.


This was no ordinary train. This was the Galaxy Express 999, the train of the future. Innovation, accessibility, infinite development, it is the dawn of an incredible new sport, destined to overwhelm and overturn the certainties of all watersport enthusiasts and to intrigue even non-experts. And we are here. Immediately.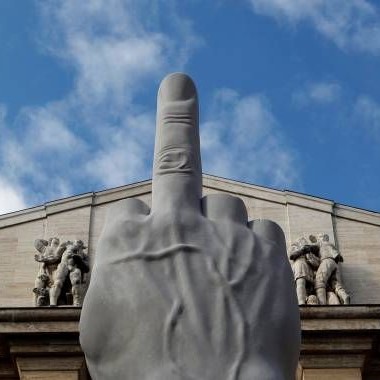 2020. SPECIAL DEDICATION.

We dedicate our smile and this work by Cattelan to those who in 2020 said: "Without us you will be nobody". A door finally closes, a dead end, and Andrea can finally dedicate himself totally to the brand. The results were not long in coming, dozens of new articles and doubled turnover.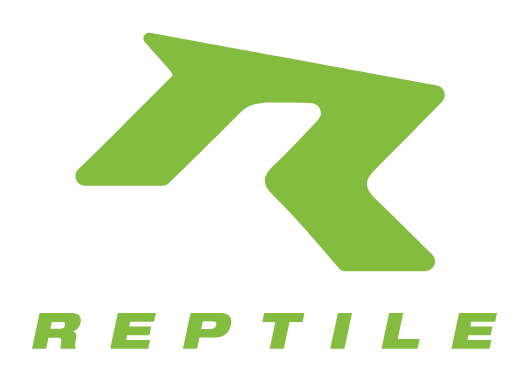 2021/2023. NEW IMAGE.

The company continues to invest in marketing and Research and Development, increasingly establishing itself in the two leading sectors of watersport lifestyle: wing foil and stand up paddle.

For the twenty years of Reptile, the new web portal was born, intended to raise awareness of the company and its products and includes an e-commerce for the public and the B2B area to offer its resellers all over the world a personalized service.